The GSH range from Oleo-Mac has been expanded with 2 new compact petrol engine chainsaws. The chainsaws in the GSH range provide an excellent compromise between performance and cost. Complementing the existing medium-power models, the latest GSH 40 and GSH 400 compact petrol engine chainsaws are equipped with a 35 and 41 cm guide bar. These machines are perfect for both domestic gardening and small jobs in the countryside.
In addition to their recognisable design, the GSH 40 and GSH 400 petrol engine chainsaws have a 2-stroke engine outputting 1.7 kW of power, which is available in the Euro 5 version (with catalytic converter) for the European market. The engine incorporates a piston with 2 elastic segments, a nickel-coated cylinder, steel shaft and connecting rod, and roller cages to ensure toughness and constant long-term performance. In addition, the anti-ice system allows them to be used even at temperatures below 0°C.
Cold starting the 2-stroke engine is made even faster and easier by the primer and multi-function lever which simultaneously serves as an on/off switch, air lever and semi-acceleration control. In addition, the EasyOn starting system reduces the risk of kickback. Furthermore, the anti-vibration system on the GSH 40 and GSH 400 models insulates the engine from the handles, ensuring comfortable use.
Cleaning and maintaining the new Oleo-Mac GSH 40 and GSH 400 compact chainsaws is facilitated by the nylon filter with large filtration surface and by the filter cover, which is openable using a knob without needing to use tools or disassemble the housing. The lateral chain tensioner simplifies chain adjustment, while the adjustable automatic oil pump ensures constant lubrication based on cutting needs and the guide bar/chain combination.
Compact chainsaws
GSH 40 / GSH 400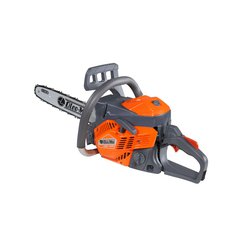 Power/Displacement 2.3 HP - 1.7 kW/38.9 cm³
Bar length (nose) 35-41 cm, 14''-16''
Dry weight without bar and chain 4.5 Kg